New AZX Series Regenerative Power Source
Pacific Power Launches a new regenerative AC & DC Power Source
From 50 kVA to 200 kVA.
Frequency range 15 - 1000Hz
Output voltage up to 623Vac LL
New ECTS2 Series Harmonics & Flicker Test Systems
Pacific Power now offers a range of EMC Test systems for Power Line Emissions & Immunity compliance test.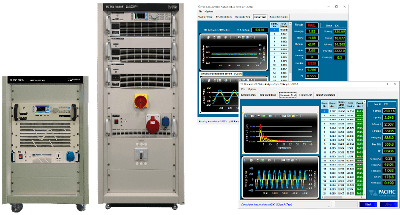 Need test equipment right away but no capital budget available?
Let us help you find the best solution for short or long term rentals. Call our sales associates now.
New LMX Series Linear AC Power Sources
Pacific Power Launches new range of high performance linear AC power sources from 500VA to 30kVA.
Frequency range 15 - 5000Hz
Output voltage up to 600Vac
Our Experts are Ready to Help
Need help find the best solution for your power needs? From product selection to application and implementation, our associates can help.
This new energy efficient ADF AC Power Source Series offers 15kVA/kW of power in only 4U of rack space. Excellent Value!!!
Products for every Application
We have products and solutions for Compliance testing in Aerospace, testing PV Micro Inverters for Renewable Energies, and IEC61000-4 Immunity Test Routines for Household Appliances, Consumer Electronics and more.

NEED HELP?
Call Us:
(888) 239-1619
or fill out the form below...