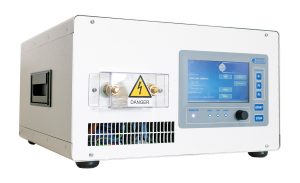 High Current AC Current Sources
Current generators of the GI2k Series are static sources of AC constant current. Models up to 50kA/1000kVA for continuous or pulse operation make up one of the largest ranges of 1- and 3-phase system available today on the market.
Current generators of the GI2k Series supply a very stable AC current at a variable frequency from 40 to 200Hz. Up to three current ranges per unit are provided, with manual or automatic selection. Equipped with a modern and easy to use front panel interface with a large LCD display, the controllers of the GI2k Series offer advanced capabilities for current test applications.
Standard low power units are built into 19" racks or table cases. High power units are built into 19" cabinets on wheels.
Ideally suited for lab applications (R&D), the GI2k Series finds a great role in final product testing. Remote control is via the standard isolated RS232 and RS485, or optional USB, LAN, and Fiber Optic Interfaces. Analog inputs (Booster inputs) are available as well and allow the units to be used as current amplifiers using external analog signals. They can for example be used as amplifier to reproduce arbitrary current waveforms. In addition, eight Digital inputs/outputs allow finally the GI2k Series to be perfectly integrated in manufacturing lines.
Specially developed for the test of circuit breakers, the GI2k Series is equipped with a sequencer and timer, allowing to set current and test time and measuring accurately the trip time with a resolution up to 1ms. Different modes like ramp, drop out and loop are available in order to create test program and sequences following norms or custom manufacturer procedures.
Power Module
500VA
1200VA
2500VA
5000VA
7500VA
10kVA
15kVA
20kVA
30kVA
40kVA
50kVA
60kVA
80kVA
100kVA
120kVA
150kVA
Current (Continuous)
10A
50A
120A
240A
350A
500A
750A
1000A
2000A
4000A
5000A
6000A
8000A
10000A
12000A
15000A
20000A
Current (Pulsed)
900A
1300A
2500A
3500A
5000A
6000A
8000A
10000A
15000A
20000A
30000A
Option
Description
/Pulse
Pulse mode
/M-GI-SW
Software including arbitrary waveforms for single phase unit
/M3-GI-SW
Software including arbitrary waveforms for 3 phase system
/PID
PID software, access to PID-regulation parameters
/Rack
19" Rack instead of cabinet (available up to 5kVA)
/3-Rack
19" Rack with connections for 3 phase systems
/Wheels
Cabinet with wheels max weight 800kg
/LAN
LAN interface
/USB
USB interface
/FO
Fiber Optic interface
/ROUT
Rear output connections
/FOUT
Front output connections
/SOUT
Special output connections
/TCase
Tablet case
/Axxxx
Special output current range (P.E. A8000 = 8000A f.s.)
/MRange
Manual Switching of current range
/ARange
Automatic Switching of current range
/IP
Special IP protection
/ATE Unit
Without Front panel control and display, for
system integration
/DC-CTRL
DC control mode of output (0-10V)