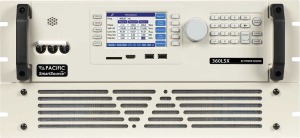 Maximize Performance, Versatility & Eliminate Downtime
The LSX Series is a family of highly capable, fully featured, single and three phase AC Power Sources using advanced PWM switch mode power conversion for maximum efficiency. Available models range from 1.5kVA to 6kVA, all equipped with multi-DSP controllers featuring a color touch screen user interface.

LSX Series power sources are cost effective and fully programmable for both basic frequency conversion and advanced AC power line disturbance test applications. For less demanding applications, a reduced feature set M version of the LSX is available as well.

Note: The LSX Series is not CE marked yet at this time.
Model Comparison - Single Phase Models
Model
Rated
Power (VA)
Voltage Max
(L-N/L-L) (Vrms)
Rated Current Max (Arms)
Output
Frequency (Hz)
AC
Input
U
115LSX(T)
1500
Direct: 132
Transformer option:
0-198 (T 1.5:1),
0-264 (T 2.0:1),
0-330 (T 2.5:1)
Direct: 16
Transformer:
10.7 (T 1.5:1),
8.0 (T 2.0:1),
6.4 (T 2.5:1)
15-1200
1Ø
3
120LSX
2000
Direct: 150/300
Direct: 20/14
15-1200
1Ø
3
140LSX(T)
4000
Direct: 135/720
Transformer option:
202/404 (T 1.5:1),
270/540 (T 2.0:1),
338/600 (T 2.5:1)
Direct: 32/16
Transformer:
21.3/10.7 (T 1.5:1),
16.0/8.0 (T 2.0:1),
12.8/6.4 (T 2.5:1)
15-1200
3Ø
8
160LSX(T)
6000
Direct: 132/264
Transformer option:
198/396 (T 1.5:1),
264/528 (T 2.0:1),
330/600 (T 2.5:1)
Direct: 48/16
Transformer:
32/10.6 (T 1.5:1),
24/8 (T 2.0:1),
19.2/6.4 (T 2.5:1)
15-1200
3Ø
8
Model Comparison - Three Phase Models
Model
Rated
Power
(VA)
Voltage Max
(L-N/L-L) (Vrms)
Rated Current Max (Arms)
Output
Frequency
(Hz)
AC
Input
U
315LSX
1500
Direct:
1Ø: 132/264
3Ø: 132
Direct:
1Ø: 12/8
3Ø: 4/Ø
15-1200
1Ø

3
320LSX
2000
Direct:
1Ø: 150/300
3Ø: 150
Direct:
1Ø: 20/12
3Ø: 7/Ø
15-1200
1Ø

3
345LSX(T)
4500
Direct:
1Ø: 135/270
3Ø: 135
Transformer option:
T 1.5:1 (1Ø): 202/404
T 1.5:1 (3Ø): 202/350
T 2.0:1 (1Ø): 270/540
T 2.0:1 (3Ø): 270/468
T 2.5:1 (1Ø): 338/600
T 2.5:1 (3Ø): 338/585"
Direct:
1Ø: 36/12
3Ø: 12/Ø
Transformer:
T 1.5:1 (1Ø): 24/8
T 1.5:1 (3Ø): 8/Ø
T 2.0:1 (1Ø): 18/6
T 2.0:1 (3Ø): 6/Ø
T 2.5:1 (1Ø): 14.4/4.8
T 2.5:1 (3Ø): 4.8/Ø"

15-1200
3Ø

8
360LSX(T)
6000
Direct:
1Ø: 132/264
3Ø: 132
Transformer option:
T 1.5:1 (1Ø): 198/396
T 1.5:1 (3Ø): 198/343
T 2.0:1 (1Ø): 264/528
T 2.0:1 (3Ø): 264/457
T 2.5:1 (1Ø): 330/600
T 2.5:1 (3Ø): 330/572"
Direct:
1Ø: 48/16
3Ø: 16/Ø
Transformer:
T 1.5:1 (1Ø): 32/10.7
T 1.5:1 (3Ø): 10.7/Ø
T 2.0:1 (1Ø): 24/8
T 2.0:1 (3Ø): 8/Ø
T 2.5:1 (1Ø): 19.2/6.4
T 2.5:1 (3Ø): 6.4/Ø"

15-1200
3Ø

8